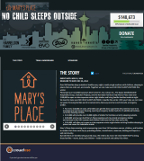 Help Mary's Place raise over $250,000 to open a crisis-response winter night shelter and bring Seattle families inside at night.
We need to make sure NO CHILD SLEEPS OUTSIDE in Seattle this winter. With your help, we can make our goal of moving families out of encampments, doorways and cars and into safe, emergency shelter.
Windermere Greenwood is getting behind the "No Child Sleeps Outside" effort too! Our goal is to raise $5,000 amongst our real estate brokers & staff with donations and matching funds from the Windermere Foundation to make sure every homeless family in Seattle has shelter during the holiday and cold winter months.
We're Half Way There!! We've collected $2,500 so far as of Wednesday, December 17th
Thank you Spady family, Dick's Drive-In and all the sponsors and individuals who have already helped this crowdfund campaign project! Let's help them meet their goal!