Come enjoy local artists, snacks & wine this Friday at Windermere Greenwood!
Friday, July 14, 6-9pm
at Windermere Greenwood
311 N 85th St, Seattle WA 98103
Please join us in celebrating local artists Barb Gipple and Mary Powers, this upcoming Friday from 6-9pm at Windermere Greenwood as part of the ArtUp PhinneyWood Art Walk. We'll be serving wine and snacks at this fun summer soirée, so please feel free to share this invitation with your friends. Take in the beautiful work of our artists, and maybe take some art home with you:
BARB GIPPLE is a Seattle artist who draws and paints with oilsticks and graphite on paper.  She looks to urban street painting (graffiti) for inspiration – with its informality, spontaneous gesture, multi-textured surfaces and unexpected color. Surrounded by the Olympic and Cascade mountain ranges, Puget Sound, rainforests and the rich countryside of the Pacific Northwest, landscape imagery is exerting a stronger presence in her artwork; her tabletop still-lives are giving way to energetic compositions of mountains, foothills and water vistas. Gipple has a BFA (PNCA, Portland, OR) and an MFA (Columbia University, NYC) in drawing and painting.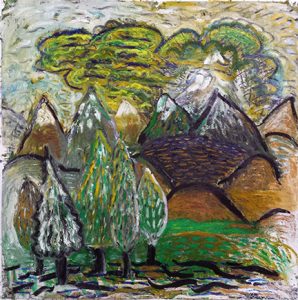 MARY POWERS gives new life to antique jewelry using pieces from the Victorian era, 1920's beads, and reworked chain.